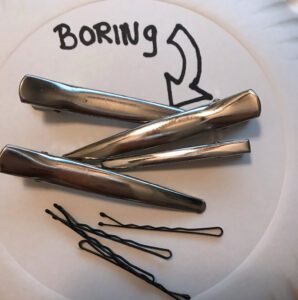 Since  I have been spending a lot more time in my house I  have decided to try to reinvent some of my items. Case in point my boring, plain hair clips and bobby pins. I tend to buy these items in packs so I usually have a half dozen of very useful, very boring clips. With a little nail polish we can change all that.
What you will need:
bobby pins or metal clips
nail polish
paper plate or card board
This is very easy and really doesn't need step by step instructions. Take your hair accessories and clip them to the edge of your paper plate. Take your nail polish and paint the tops of your items. Some items (just like nails) will need several coats. Next you can add some decorations. I used the paper plate and tested making some stripes, chevrons and polka-dots before trying it on the clips. And that is it!